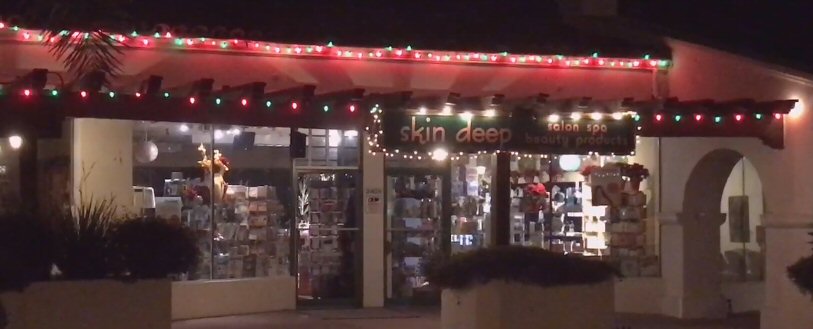 "From the best Stocking Stuffers and dazzling Holiday Ornaments in town… to the Gift Everyone Loves (The Skin Deep Gift Certificate!)…Skin Deep is a 5 Star Customer Favorite for all the Magical Ways we help you have fun and relax during this busy time of year. As always, the Skin Deep Elves will also wrap your gifts to save you lots of time. After our 37 years, as one customer said the other day when she walked in the door, 'Ahhhh….some things never change!' "
Nina Meyer, Tina Hasche, Gina McKee…The Skin Deep Sisters
Do the holidays fill you with a sense of wonder and joy? Or do they create a nervous pit in your stomach? Because both phenomenon are possible.
Sometimes we're bursting with warm fuzzies. Other times the carols drive us to distraction and rather than counting our blessings we count how many cookies there are to bake and presents to wrap and parties to attend; so we're focused on the 'why can't I find a place to park' folly instead of maintaining an attitude of jolly.
Well, the Mayo clinic has some very sound advice on how to enjoy a festive, well-balanced season, which I've taken the liberty of translating into layman's terms:
1) Acknowledge your feelings and be who/where you are. This means: you can't force merry. That's just awkward.
2) Plan ahead. Keep all your plans and appointments in your head and your head will blow up. Map out times to shop, bake, visit pals, etc.
3) Reach out to others. Hang with your nearest and dearest or do something more altruistic like volunteering, but one thing's for sure: connecting with others lifts your spirits.
4) Be realistic. The holidays don't have to be perfect; they don't even have to be just like last year. Traditions change and grow – just like families.
5) Set aside your differences. Accept your family and friends as they are, because I'm betting NONE of us live up to each other's expectations.
6) Maintain healthy habits. Overindulgence is often followed by a hearty dose of guilt. So write yourself a hall pass. Next time have a healthy snack before the party; get plenty of sleep and exercise. But don't beat yourself up – there's nothing jubilant about remorse.
7) Learn to say no. You can't do everything. No one can do everything. Most other humans get this and will understand when you tell them your plate is already full.
8) Take a breather. Go for a walk, listen to music, or (my favorite) have a facial or massage. When the carol proclaims: "repeat the sounding joy," I'm fairly certain the sound they're endorsing is: Ahhhh.
"Nothing says holidays like a cheese log." – Ellen DeGeneres
"One of the most glorious messes in the world is the mess created in the living room on Christmas day. Don't clean it up too quickly." – Andy Rooney
"Being a traditionalist, I'm a rabid sucker for Christmas. In July I'm already worried that there are only 146 shopping days left." – John Waters